Tape Weft
Tape Weft Extensions are Tape Extensions but on 1 long track. You can therefore cut it to size and use it over the entire length, just like a Machine and Flat Weft. The biggest advantage compared to the 4cm tapes is that placing and repositioning is much faster.
Our tape wefts are made from top quality human hair, which makes them long lasting and blends in beautifully with your own hair. We recommend raising the tape wefts every 6-8 weeks. You can often reuse our wefts if you treat them properly.
By using our tape roll you can reuse the tape wefts several times. Remove the strips from the hair with our remover, then remove the old tape layer from the weft and stick new ones on.
Tape wefts from Beauty by Echika can be ordered from stock or made to measure. You determine the color, length, structure and quantity yourself. In short, you put together your ideal set of extensions, completely matching the hair of your customer.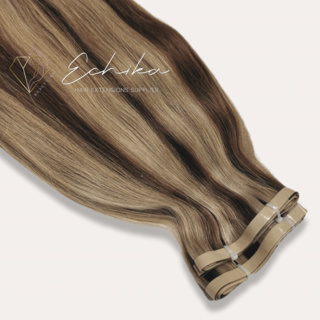 Overige categorieën in Hair Extensions & Hairpieces