Beauty By Echika Double Silk Weft Hair Extensions | #12C/60C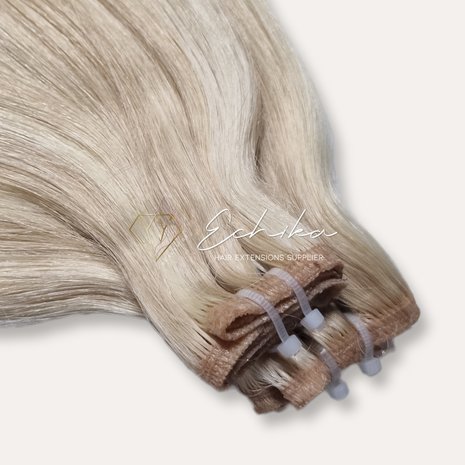 Product description
What are Silk Weft extensions?
Our Double Silk Wefts are an upgrade of our Flat Weft extensions! They are made of a silk band which makes them even thinner and less wide. They are a bit more flexible than flat wefts and the webbing can be dyed!
Because the strip is made of silk, you can see the hairs on the belt, making it look super natural.
The Double Silk wefts are, as the name suggests, twice as thick! As a result, there is twice as much hair on one weave. The nice thing is that you can also make a Single Silk Weft from the Double Silk Weft. As a result, you can only use the Single Silk Weft where it is really needed.
The hairs are made of top quality real hair without coating, so that they can last 2+ years with our recommended care.
The hair can be dyed, bleached, washed and styled.
Product Highlights:
Quantity: 50 grams
Width lane: ±35cm
Lifespan: 1-2 years (with our recommended care)
Origin: 100% Vietnamese Virgin Human Hair
Coating: No
Colour: 12C/60C