20" Machine Weft | #1A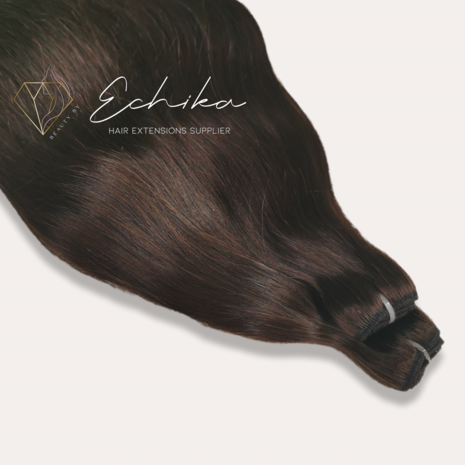 Product description
What are machine wefts?
Machine wefts are machine woven hairs that work together to make one track.
Machine wefts can be placed in different ways. Our hair wefts are made of top quality real hair, which makes them long lasting and blends beautifully into your own hair. We recommend raising the hair wefts every 6-10 weeks. You can often reuse our wefts if you treat them properly.
Product highlights
The extensions can last 12-24 months with proper hair care.
Each package contains one weft of 50 grams.
Color: 1A
Length: 20 inch
How much should I order?
Full Hair Extension:
2-4 packs recommended (100-200 grams)
Volume treatment:
1-2 packs recommended (50-100 grams)
How are Hair wefts placed?
Only with of micro rings.
With micro rings and thread
With small braids and thread
Machine wefts from Beauty by Echika can be ordered from stock or custom made. You determine the color, length, texture and quantity yourself. In short, you put together your ideal set of extensions, completely suitable for every hair type.
Are you reading this as an individual? Then always have your hair wefts placed by a professional!